LIVE Sam's Club Liquidation Auction with Online Simulcast Bidding!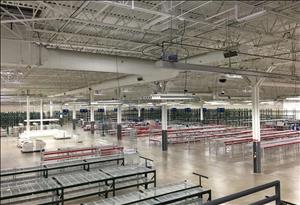 Description:

The Asset Retirement program will be liquidating all remaining assets via Live onsite auction with online simulcast bidding. Highlights to include: Pallet Racking, Restaurant Equipment, Deli Cases, Reach in Coolers, Forklifts, Store Fixtures, Office Equipment, Vertical Balers and More !!! These items are being sold directly from the clubs location. Dennis Kaptein - Registered WI Auctioneer, Cash and Credit Card accepted as payment, 15% Buyer's Fee Onsite & 18% Buyer's Fee Online. Rigger Available for on-site shipping purposes, contact Bobby: 864-444-1701
Buyer's Premium
A 15% Buyer's Premium will be in effect for this auction. And if bidding through the online simulcast there will be an 18% Buyer's Premium.
Inspection Times
Wednesday, October 12, 2016 from (12PM- 5PM CST)
And Auction Day (October 13, 2016) beginning at 8AM until start.
Payment Dates
**ALL PAYMENTS REQUIRED DAY OF AUCTION**
October 13th, 2016 from 8AM - 5PM
Types of Payment Accepted
Credit Card (Visa, Mastercard, Discover)
Wire transfer

Cash
Sales Tax
All bidders will be subject to sales tax applicable to the auction location unless you provide our office with the documentation we require for exemption (out-of-state buyers and out-of-country buyers will not be charged sales tax)
SPECIAL NOTES
ALL ITEMS SOLD "AS IS WHERE IS"
BUYERS ARE RESPONSIBLE FOR DISMANTLING, LOADING, PACKAGING AND SHIPPING OF ALL ITEMS PURCHASED. BUYER WILL BE RESPONSIBLE TO REMOVE THE ENTIRE LOT EITHER BY TAKING IT WITH THEM OR PUTTING IT IN THE DUMPSTER.

Rigger Available for on-site shipping purposes, contact Bobby: 866-444-1701

BUYERS ARE RESPONSIBLE FOR DISMANTLING, LOADING, PACKAGING AND SHIPPING OF ALL ITEMS PURCHASED.

BUYER MUST GRIND OFF ANY AND ALL BOLTS ATTACHING THE SPECIFIC LOT TO THE FLOOR.

BUYER WILL BE RESPONSIBLE TO MAKE SURE ENTIRE LOT HAS BEEN REMOVED. IF BUYER DOES NOT WANT A SPECIFIC ITEM IN THE LOT THEY WILL BE RESPONSIBLE FOR PUTTING IT IN THE DUMPSTER.

Rigger Available for on-site shipping purposes, contact Bobby: 866-444-1701
REMOVAL TIMES AND DATES ARE AS FOLLOWS:
October 14 8 AM - 5 PM and October 15 8AM-3PM
NO SUNDAY REMOVAL OCTOBER 16 - STRICTLY ENFORCED
October 17 8AM-5PM through October 21 8AM-3PM
ALL ITEMS MUST BE REMOVED BY FRIDAY, OCTOBER 21 at 3pm CST
CROSSBID does not package or ship.
Important Notes:
BUYER RESPONSIBLE FOR LOADING, PACKAGING AND SHIPPING OF ITEMS PURCHASED AND ALL ASSOCIATED FEES


All auction items must be removed from auction location within 7 days of the completion of the auction BY OCTOBER 21st at 3PM CST


Buyer may select any packaging & shipping company of your choice
Sales Tax
The appropriate sales tax for each lot is your responsibility to pay and will be collected during the checkout process. Each item's sales tax is calculated based on the location of the item, where it is sitting.
Tax will be collected at all times except for the following:
You are tax exempt and have an updated/current form on file with the office for the state in which your business resides
If you have any questions regarding our policy on sales tax, please call us from 9:00 am to 5:00 pm EST at (616) 608-8411.
AUCTION SITE BUYERS TERMS OF USE
CrossBid, LLC ("CrossBid") offers you ("you" or "User") access to this website (the "Auction Site") based upon the terms contained in this Terms of Use Agreement (the "Agreement"). By using the Auction Site, or by clicking the "I Accept" button below, you agree and accept each of the terms contained in the Agreement.
Registration: You may browse the Auction Site for free and without registering. In order to buy an item, you must register. The Auction Site follows a registration procedure. When you register at the Auction Site, you must choose a username and password. You are responsible for the safekeeping and confidentiality of your username and password and are not to disclose any username or password to a third party or to use the username or password of any other user. You are responsible for all activity that occurs under your Auction Site account. In the event your account is breached or accessed by someone other than you, you must contact CrossBid immediately.

Registration is not available to those who cannot form a legal contract, minors under 18 years of age, or to those whose account has been temporarily or permanently suspended. If you are not legally competent to enter into a binding contract, you must not use or visit Auction Site. CrossBid reserves the right to cancel the account of any User that violates the Agreement. CrossBid reserves the right to refuse registration or access to Auctions to anyone, at anytime, in its sole discretion.
User Representations and Restrictions: Each User is responsible for the content that he or she posts or uploads to the Auction Site. You represent and warrant that in using the Auction Site
you shall abide by all applicable civil and criminal laws;
you will deliver payment, together with any applicable sales tax, for items purchased by you in the ordinary course;
you will pay any fees owed to CrossBid and will not circumvent or manipulate our fee structure or billing process;
you own or have a license for any information uploaded by you on Auction Site and
you will not post or display any offensive language, or content designed or intended to incite violence or criminal conduct.
Risks of Transaction: The Auction Site provides a venue where Users may buy goods in accordance with these terms. CrossBid only provides a service and does not participate in any transaction of items on this Auction Site. Users assume all risks involved in every transaction. CrossBid and their affiliates do not control or guarantee the quality, safety, authenticity, or legality of any listing or item sold. CrossBid and their affiliates do not control or guarantee the truth or accuracy of any listings, or that every transaction will be completed. CrossBid does not transfer legal ownership of items to the buyer. All items are sold AS IS with all faults and with no warranty of any type expressed or implied as to the merchantability or fitness for a particular purpose. All buyers are urged to physically inspect the item during the inspection period. No bids can be withdrawn after the auction for any reason. Any oral representation made by the auctioneer shall not modify these AS IS terms. Buyer understands that any description given in a catalog or written on the equipment is not guaranteed.
Seller Bidding: The seller, its agent and/or CrossBid reserve the right to bid on the seller's item in order to protect their investment.
Posted Closing Times: CrossBid reserves the right to close early or extend auctions for particular items at any time in its sole discretion. All times are based on the time zone where the auction is located. Dynamic bidding - Dynamic bidding on the Auction Site is a feature whereby an item will not be allowed to sell at the end of the auction until there is 5 minutes of bidding inactivity. By way of example, if a bid is placed on an item at 8:56 pm and the auction is scheduled to close at 9:00 pm, the ending time will automatically extend to 9:05 pm. When another bid is placed at 9:01 pm, the auction will extend until 9:10 pm. If no other bids are placed on that particular item, the auction item will conclude at 9:10 pm. Under the dynamic bidding feature, the auction extends from the preset closing time in 5 minute intervals, not 5 minutes from when the most recent bid was placed.
Right to Terminate Purchase: If, for any reason, CrossBid is unable to complete the sale of any purchase to buyer or provide such purchase free and clear of liens, even if the buyer was given notice that he is the high bidder and purchaser, CrossBid. may terminate the purchase, in which case CrossBid's only liability shall be the return of any monies actually paid by buyer for the item.
Buyer's Premium: A buyer's premium will be added to all purchases. The buyer's premium in effect for a particular auction item will be noted when you click on the details link on the items listings page. You may also call CrossBid to find out the exact amount of the buyer's premium for any auction item.
Payment Terms: Browsing items is free, however CrossBid charges for its services and reserves the right to charge your credit card 20% of your purchase or your total purchase amount immediately following the sale. The balance is due within two (2) business days and prior to removal of purchased item(s), payable in U.S. funds by electronic check, credit card, or wire transfer. If you do not pay in full by the due date, CrossBid reserves the right to charge the balance to the credit card you have registered with the Auction Site along with a processing fee up to $10.00. Visa, MasterCard, Discover and American Express cards are accepted.
Sales Tax/Title Fees: Applicable sales tax is the responsibility of the buyer and will be collected by CrossBid along with the final sales price of the item, unless buyer provides CrossBid with documentation required by CrossBid showing that buyer is exempt from such tax. In the case of titled vehicles, buyers are responsible to take care of any title and/or plate fees in their local jurisdiction with the applicable licensing authorities; title documentation will be given day of sale if paid by credit card or certified check.
Removal and Failure to Remove Items: Each purchased item must be removed from the auction site without damaging any other property and within the time announced or posted for such item. All costs, responsibility and risk of such removal is borne by buyer and, in every case; buyer will use prudence and care in such removal. If buyer fails to remove any purchased item within the time specified, CrossBid has the right but not the obligation, in its sole discretion, to resell, discard or remove and store, at buyers sole risk and expense (storage costs will be charged at $15 per day - per item - other costs additional), without waiving any rights that CrossBid or seller may have
Term: The Agreement, and any amendments, shall govern your relationship with CrossBid and use of the Auction Site for the period of time that you use the Auction Site and shall survive beyond the end of your use.
Changes: By using the Auction Site, you accept and agree to be bound by each of the terms contained in the Agreement, which may be modified in accordance with this section. Non-material changes may be made by CrossBid at any time. CrossBid will notify Users in advance of any material change to this Agreement and require that you accept the amended Agreement. Your access to and use of the Auction Site after the effective date of amended terms means that you have accepted the amended terms. This Agreement cannot be otherwise amended.
Links: If you use links to third party sites, you will leave the Auction Site. CrossBid does not control the linked sites nor is it responsible for the content of any third party linked site, or of any other links contained in such third party site. CrossBid provides links to you solely for your convenience, and the inclusion of any link is not an endorsement by CrossBid of the site or its contents. CrossBid expressly disclaims any responsibility and all liability for any other party's linking to this site or in which any part of this site has been hyperlinked.
Warranties: CrossBid will provide the Auction Site services in a professional manner and according to acceptable industry standards. We provide third party services to you "as is" and "as available" without warranty. Each party shall comply with all applicable federal, state and local laws pertaining to the use of the Auction Site. CrossBid makes no representation as to the completeness and accuracy of the information contained in the Auction Site. This information may be incomplete, may contain errors or may become out of date.

CROSSBID EXPRESSLY AND THEIR AFFILIATES WAIVES ALL OTHER EXPRESS OR IMPLIED WARRANTIES INCLUDING BUT NOT LIMITED TO WARRANTIES OF MERCHANTABILITY, INTEGRATION, PERFORMANCE, FITNESS FOR A PARTICULAR PURPOSE, ACCURACY AND NON-INFRINGEMENT, AS WELL AS WARRANTIES ARISING OUT OF COURSE OF DEALING OR PERFORMANCE OR USAGE OF TRADE.
Limitation of Liability: YOU EXPRESSLY UNDERSTAND AND AGREE THAT, EXCEPT AS PROVIDED IN SECTION 6, ABOVE, CROSSBID SHALL NOT BE LIABLE FOR ANY DAMAGES WHATSOEVER ARISING OUT OF OR IN CONNECTION WITH YOUR USE OF THIS SITE OR ANY INFORMATION CONTAINED ON THE SITE OR ANY LINKED THIRD PARTY SITES. IN PARTICULAR, CROSSBID SHALL NOT BE LIABLE FOR ANY DIRECT, INDIRECT, INCIDENTAL, SPECIAL, PUNITIVE, CONSEQUENTIAL OR EXEMPLARY DAMAGES, WHETHER AN ACTION ALLEGING SUCH DAMAGES IS BROUGHT IN CONTRACT, NEGLIGENCE OR TORT.
Indemnification: You agree to indemnify, release and hold harmless CrossBid and its respective officers, directors, shareholders, members, employees, agents, heirs, successors in interest, representatives, parents, subsidiaries, affiliates, licensors and content providers from and against any and all liabilities, losses, damages, claims, and expenses, including reasonable legal fees, that may be incurred or suffered by CrossBid arising out of third party claims related to: (a) your obligations under this Agreement, (b) your use of Auction Site or (d) any violation of any law, rule or regulation related to your use of Auction Site.
Release: You hereby release CrossBid and its officers, directors, employees, agents, parents, subsidiaries, partners and affiliates from any and all claims, demands, damages (including direct and consequential) of every kind and nature, known or unknown, disclosed and undisclosed, arising out of or connected with your use of the Auction Site. If you are a California resident, you waive California Civil Code Section 1542.
Termination: CrossBid may immediately terminate this Agreement if: (a) you breach this Agreement, (b) CrossBid terminates or suspends its business, (c) CrossBid becomes subject to bankruptcy or insolvency proceeding under Federal or state statute; (d) becomes insolvent or subject to direct control by a trustee, receiver or similar authority; (e) has wound up or liquidated, voluntarily or otherwise; or (f) you are involved in conduct that CrossBid reasonably believes is likely to damage CrossBid's Properties or goodwill.
Dispute Resolution: All irresolvable, material differences or disputes which may arise between you and CrossBid concerning this Agreement shall be settled by binding arbitration administered by the American Arbitration Association under its Commercial Arbitration Rules. The arbitration will take place in Grand Rapids, Michigan, and judgment on the award rendered by the arbitrator may be entered in any court having competent jurisdiction. You and CrossBid agree that: (a) arbitrators will be selected with expertise in the area in dispute; (b) punitive damages or other remedies not permitted under this Agreement will be allowed; (c) each party will pay an equal share of the arbitrator's fees and expenses and bear its own attorneys' fees, witness fees, and other costs of arbitration; and (d) the arbitration decision will be jointly-submitted for enforcement in Kent County Circuit Court, Grand Rapids, Michigan or in U.S. District Court for the Western District of Michigan, Grand Rapids, Michigan.

Users are responsible for resolving disputes with other Users. CrossBid has no obligation to review or determine the merit of any complaint. CrossBid reserves the right to review disputes and/or complaints at its sole discretion.
General:
These Terms and Conditions constitute the entire agreement between you and CrossBid and supersede all prior agreements and understandings, whether written or oral, with respect to the subject matter of this Agreement. If any part of these Terms and Conditions is unlawful, void or unenforceable, that part will be deemed severable and will not affect the validity and enforceability of any remaining provisions.
CrossBid will not be liable in any amount to you should its Agreement performance be prevented, restricted or interfered with by circumstances or events beyond its reasonable control.
This Agreement will be governed by and construed under Michigan law without regard to its conflict of laws principles.
CrossBid may assign this Agreement.